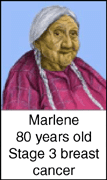 Marlene is an 80 year old widow. She has nine children, 14 grandchildren and 3 great-grandchildren. She lives with her daughter on the reservation. Her daughter has her own truck (1989 Chevy) and drives Marlene wherever she needs to go. She has local phone service only (no long distance services). She has an 8th grade education. She is very traditional and very modest. She is fluent in her Native language and has limited English speaking skills. She is eligible for and uses the local IHS clinic for her healthcare. She has no other insurance and has never applied for Medicare. She is diabetic and was diagnosed with stage 3 breast cancer. She lives 200 miles from nearest cancer center.

Names and ages of 9 children;
40 year old = Cecelia (lives with Marlene)
55 year old = Kathy
56 year old = Lisa
59 year old = Terri
59 year old = Rick
61 year old = Earl
63 year old = Paul
64 year old = Sharon
65 year old = Stacey

14 Grandchildren: (only 3 identified)
28 year old = June (Cathy's daughter)
5 year old = Summer (Rick's daughter)
38 year old = Paula (Paul's daughter)
---
Read Marlene's Story about Spirituality
---
Granddaughter Jennie finds her Grandma Marlene sitting by the river alone. Their conversation goes something like this:
Jennie: Hello Grandma! What are you doing? Am I bothering you?
Marlene: No, Granddaughter, come sit with me. I am doing a little ceremony.
Jennie: A ceremony? (puzzled) I thought ceremonies needed to be done by a medicine person.
Marlene: Yes, some ceremonies do but this one I can do myself.
Jennie: You can? What do you do?
Marlene: Well, with this one I'm using this tobacco (she takes a pinch of loose tobacco and lifts her hand to the sky). I hold it and say my prayers for myself. Sometimes I sing my prayers.
Jennie: Sing your prayers?
Marlene: Yes, sometimes my prayers are my songs.
Jennie: Oh (said in awe)
Marlene: As I pray or sing my prayers I know they are going into the tobacco. Once I'm done I leave them with the Creator. I drop a little bit of the tobacco in the four directions.
Jennie: Oh, you mean the north, south, east and west?
Marlene: Yes, to the spirits of the four sacred directions. Then I am done. I have left my prayers to the Creator with my own little ceremony. Now I feel much better.
Jennie: Gee, can I do that too?
Marlene: Sure you can. You can do it this way or your own way. It's very simple. Just listen to your heart and it will show you. If you follow your heart you will ALWAYS do it right.
Jennie: I need to do this. Thank you, Grandma. END
---
Read Marlene's Story about Cancer Pain
---
Marlene's breast cancer has recently spread to the bone. She is currently undergoing chemotherapy for her breast cancer and radiation therapy for her bone pain in her right hip. Marlene also has arthritis and diabetes.
Marlene said that before her cancer diagnosis she had some discomfort in her hands. She also has some numbness and tingling in her feet that she was told by her provider was from her arthritis and diabetes. When she was most recently talking with the doctor, he asked her to describe her pain and rate it.
Marlene was unsure what the provider was asking her to do. She said, It is not that it is bad, but I get a knife-like pain in my back when I pick up my great-grandson and put him on my lap. I am so proud of him and he is so cute and cuddly.
The doctor said, It sounds like you have different types of pain. You mentioned earlier that you have some discomfort in your hands, and that have some tingling in your feet. You also have some sharp or knife-like pain. I think we need to give you more than one type of pain medication.
Marlene is uneasy about this. She had a friend who is now on the other side who told her these drugs were really bad. Her friend got really sick and confused with the medicines. Marlene is afraid of the side effects of the pain medicine.
Marlene talks with her provider about having pain and her worries about taking the pain medicine. The provider tells her that most side effects can be prevented or will go away with time.
The provider writes a prescription for a narcotic and for a medicine to treat the pins and needles feelings in her hands and feet. The provider tells Marlene exactly how to take the medicine and about the possible side effects.
The provider also told Marlene that the nurse would check on her in a day or two to make sure she was not having any problems taking her pain medicine. Marlene took the pain medicine as she was told. The pain became much less and Marlene was able to pick up her grandson and do her daily chores. The only side effect she had was constipation and she was able to manage that using the ideas provided by the provider.
---
Read Marlene's Story about Treatment
---
Marlene is sitting with four of her adult children and three of her teenage grandchildren. Cecelia (the daughter who lives with Marlene on the reservation) talking to the rest of the family: We went to the doctors today again and he told us that mom really does need to have surgery. She may also need to have radiation or chemo. They are going to schedule her surgery sometime next week.
Earl (son): Does the doctor know about your diabetes? Do you have to do something special because of your diabetes?
Cecelia: I forgot to tell the cancer doctor about her diabetes. I just thought they would know.
Sharon (daughter, a nurse): No, the cancer doctor probably doesnt know anything about her diabetes. We need to tell him because she needs to not get any infections. Also, some of the drugs that shell be on affect her circulation. Diabetes also affects her circulation.
Cecelia: Well, I think you should come with us for the next appointment so that you and the doctor can talk about how to help mom.
Marlene: Yeah, I would like you to come too. He used a lot of those medical words and I didnt understand a lot of what he was saying.
Paul (son): Thats a good idea. Can you get off work?
Sharon: I dont know, but I guess Ill have to. Mom, do you understand what type of surgery he is going to do?
Marlene: No, I was so tired by the time we got there. It took five hours to get there and I just was tired. He seemed real nice, but I just didnt understand what he was saying. I just wanted to take a nap.
Rick (son-in-law): but mom, I thought you were going to spend the night with Stacey half-way instead of doing the whole drive in one day?
Cecelia: Yeah, we were, but Staceys kids had the flu so we didnt want mom to get sick from them.
Marlene: Yeah, but I wanted to stop anyway.
Sharon: Well, were going to have to get all of the family to make certain theyre not sick when theyre around you for a while. I can get some masks from the pharmacy that we can wear if we think we may be coming down with something. Mom, what type of surgery are they going to do on you?
Marlene (shrugs): I dont know. I think hes going to cut off one of my breasts.
Cecelia: Yeah, and he may need to cut off the other one. He says he wont know until he does the surgery.
Marlene: Yeah, here all this time Ive been worried about losing toes from diabetes and instead the cancers taking my breast.
Kathy (daughter): So how long are you going to be in the hospital? Is there someplace close to the hospital we can stay too?
Sharon: The tribe has an agreement with that hospital and a hotel down the road from it. The tribe lets family stay in that hotel that is paid for by the tribe. But we need to talk to the tribal health center to get it all set up. How many should we have go? Cecelia, youll be going, right?
Cecelia: Yeah, I want to be there.
Marlene: I need Cecelia. Id like to have you Sharon too so that you can talk to the doctor and explain what he is saying to me. He talks too fast and uses too many big words. Maybe one or two of you boys too. You can help pray and if I need help getting up or down, okay?
Rick and Earl: Dont worry mom, well be there.
Earl: I'll drive us all down in the big Ford. Then well all be together.
Marlene: okay. END
---
Read Marlene's Story about Ceremony for Lymphedema
---
Marlene and her daughter Cecelia (lives with Marlene on the reservation) are at the tribal clinic. Marlene is getting a gentle massage to help drain the extra fluids trapped in her arm. Patty, the Nurse Practitioner (NP) at the clinic who has worked with a lot of breast cancer patients has asked Sharon (Marlene's daughter who is a nurse at the clinic) to meet with her briefly.
Patty: Well, Marlene looks pretty good, but that arm swelled up pretty fast. I think she's going to do pretty well. But I want you to review the list of things she cannot do with that arm and make certain you understand everything or if you have any questions.
Sharon reads the list carefully.
Sharon: No, I think it is very clear. I will meet with the rest of the family and go through the list so that we all know what we need to do to help protect her. She won't like some of the things. You know she still likes to bring in wood for the fire in the house. She also helps gather the wood for ceremony.
Patty: Well, from now on, when she wants to help gather the wood, she needs to wear protective long sleeves and carry a basket in her good arm to put the wood in. She cannot hold it in her arms any more because she is likely to get a splinter. She is at high risk for an infection; even when her arm is not swollen. An infection will set up another episode of the lymphedema.
Sharon: Okay, I'll explain that to the family. We can all help.
Patty: Good. Now, I know your mom does some ceremony that includes cutting the skin. From now on, that can only be done on other parts of the body, but not on this arm. You can tell the healer and if wants to know more about how to protect her, just ask him to drop by the clinic or to call me and I'll go by his house to talk with him.
Sharon: Sure. He's at the gathering and I can talk with him if we are able to go back to it tonight.
Patty: Great. And if I see him tonight, I'll also let him know I'm there and available to talk with him.
Sharon: Thanks.
---
Read Marlene's Story about Fatigue
---
Marlene has her pain under control and even though she has fatigue, she still wants to be a help to her family. Her granddaughter, who lives nearby on the reservation, has just had a baby and Marlene knows she hasn't been getting much sleep. Her daughter Cecelia, who lives with Marlene, has been helping, but Marlene wants to help, too.
Marlene: I really want to help Caren with the baby, but I am so tired. There has to be something I can do.
Cecelia: Yes, Caren is tired, too, but it's not the same kind of tired you are feeling. The baby doesn't sleep much. Caren knows you want to help.
Marlene: (frowning): I know, but that's what family should do, help out. I want to make some booties and hold the baby and let Caren sleep. My pain is better and I know I can't do much with this arm, but...
Cecelia: Mom, it's okay. Everyone knows how tired you are and that you can't help it. Some think it's just because you are old, but the family knows it's because of your cancer and cancer treatment.
Marlene: Do you think there is something I can do to help? Could Caren come here with the baby? I can't lift him, but I could watch him and you could help me if he cries. Maybe I can hold him if you put him in my arms.
Cecelia: We could ask Caren, maybe she would like that. I know she's wants him to know his great-grandmother.
Marlene: (smiling): That would be good; it might even make me less tired, to think I can help Caren and the baby. END
---
Read Marlene's Story about her Clinic Visit and Lymphedema
---
Marlene and her daughter Cecelia (lives with Marlene on the reservation) are meeting Sharon, the daughter who is a nurse at the tribal clinic. Marlene's symptoms of lymphedema started about an hour ago. They are meeting with Patty, the NURSE PRACTITIONER (NP) at the clinic who has worked with a lot of breast cancer patients.
Patty: Hello Grandmother, I am happy to see you; but very sorry that the visit is because you are in some pain.
Marlene: Oh, hello niece, some sit down and talk with me. How is your family?
Patty: Everyone is fine. We are planning to go the wellness gathering tonight. We thought we'd see you there.
Marlene: Oh that would be good to see your family. So maybe you can help fix my arm and we can go back?
Patty: I'll do my best. May I move your poncho back so that I can see the arm that hurts? Marlene nods her head and helps remove the poncho with her arm that doesn't hurt.
Patty (looking carefully at the arm) Grandmother, are you able to straighten the arm toward my opened hand and rest your arm on my hand? Marlene does so.
Patty: That is good. May I gently touch you? Marlene sheepishly nods her head.
Patty gently presses her index finger on Marlene's forearm and the arm shows a dent where Patty pressed.
Patty: Do you remember anything that may have hurt it?
Marlene: Not really. We were just having a real good time. They're real good at the conference to make us get up and move around a lot. That's good for my diabetes. And some of the things they had us do were really silly and fun. Oh, your daughter would have really liked it. I can see her giggling (smiling and chuckling).
Patty: Oh, it sounds very fun and we're all looking forward to going to the gathering tonight. Maybe they'll do some of those same silly things. Would you describe some of the things that they had you do? Maybe one of them wasn't too good for your arm.
Marlene: Marlene looks at Cecelia and Cecelia begins to describe some of the activities, then she says, we also did a fly fishing exercise. You know, where you pretend you're fly fishing and throwing out the fishing line.
Patty: Okay. I don't want Grandmother to show me, but can you show me how this exercise was done please?
Cecelia stands up, places her hands like they are holding onto a fishing rod, pulls her arms up and back, then gently throws the "fishing line" into a make-believe stream.
Patty: Okay. That was very helpful Cecelia.
Patty turns to look at Sharon, Marlene's other daughter who is also a nurse at the clinic.
Patty: I'm glad all three of you are here so that you can learn how to help prevent this from happening again. Or, if it happens suddenly, you know what to do. They all look attentively at Patty.
Patty: This swelling and pain that you are having in your arm is called, "lymphedema". It is a problem that can happen to you anytime after your surgery. It is because the doctors had to look at your lymph nodes to see if there was any cancer in them.
Marlene looks blankly at her daughters. Cecelia begins to translate and Sharon also translates to help explain what lymph nodes are.
Marlene: So is this because of that scar I have under my arm?
Patty: Well, not from the scar, but from the surgery that was done under your arm. Because the doctors had to look at the nodes, you will always have to be extra careful with this arm.
Marlene: What does that mean? She looks at her daughters again. They turn and look again a Patty. They too do not understand what this means.
Patty: You have to be careful to never carry groceries, your knitting bag or anything else that is more than 3 pounds with this arm. When you come into the clinic, either here or at the Cancer Center, remind them that you've had problems with the arm swelling. The providers cannot ever give you a shot in this arm. Do you understand? Marlene looks a bit confused, but nods her head.
Patty: You know what blood pressure is? You know when we but the cuff around your upper arm and pump air into the cuff to make it tight. Then we let some air out of the cuff. When we do that, we are reading a screen that tells us your blood pressure.
Marlene: Yes, I have that all the time. Because of my diabetes and because I am an elder.
Patty: Yes, that is right. Well, from now on, you need to tell the providers that they need to use your other arm for blood pressure tests. When they ask you why, explain that your arm gets swollen since your breast surgery. Marlene, Sharon and Cecelia all nod their heads that they understand.
Patty: I am going to give you a sheet of paper. It is in English but Sharon or Cecelia can explain anything that doesn't make sense to you. You can also always call me up and I'll help explain too. This paper is a list of things you need to do, starting today, to help protect your arm. I am going to use an ace bandage to gently wrap your arm, but you need to get an elastic sleeve. I will help Sharon order one for you today. Until you receive it, you need to wear this ace bandage. I will show Sharon how loose to put it on. We don't want it to be too tight. Most important, you need to keep you arm and elbow resting on something soft that makes your arm higher than your heart. Cecelia and Sharon told me you used the ice chest and blankets in the truck on your way down here. That was very good. But you need to also do this when you are sitting in your rocking chair at home and when you are lying down. Tell me some ways you can do this?
Marlene looks blankly at Patty, then to Sharon and Cecelia.
Sharon: Mom, Patty is saying that we need to find a way to keep your arm raised up when you're sitting in the rocking chair at home and when you go lie down for a nap or to sleep at night. Do you still have that soft old feather pillow that June used to always love when she was a little girl? Marlene nods. Okay, we can use that to rest your arm on.
Patty: Grandmother, in addition to the things on this list, there is another one that is very important for you. I know you always enjoy berry picking in the summer. You can still pick berries, but you need to wear the sleeve and a tougher jacket, like a light windbreaker, to protect you from the thorns. We do not want you to get any cuts, punctures, or insect bites on this arm ever again.
Marlene: Oh, that's going to be hot!
Patty: Yes, put you can wet the windbreaker before you put it on so that it helps you stay cool. You need to do this even when your arm is not swollen.
Marlene, Cecelia and Sharon all nod in agreement.
Patty: Now, the other thing we are going to have you do before you leave today is to go visit Peg. (Patty turns to look at Sharon) Sharon, please tell Peg that your mom needs a gentle massage to help the lymph fluid drain from her arm. Patty turns and looks at Marlene again. This is not going to hurt. Peg has been trained to do these very special massages that may help your arm get less swollen. Right now is has extra liquid trapped in the tissues. Peg will help gently massage the arm so that some of the fluid drains away into your body where healthy lymph nodes can capture it and get rid of it for you. Marlene nods. Before you go down the hall, we're going to have you drink some water and take a mild pain reliever too, okay?
Marlene nods and says: Do you think I can go back to the gathering or do I have to go home?
Patty: Let's see how you do after Peg does the massage on you and you've had the ace bandage on for a while. Because you were so good and told Cecelia that your arm was hurting, you got here very quickly before the symptoms got any worse. That is something you will need to do if this ever happens again, okay? You tell Cecelia or Sharon right away. No waiting. Okay, Grandmother? We need you feeling well. You are too important to all of us.
Marlene (smiling): You are a good nurse too and we are lucky to have you at our clinic.
Patty: Thank you grandmother. Now, after Peg is done with her massage and she wraps your arm again, I want you to come see me before you leave the clinic, okay? Both Cecelia and Marlene nod their heads in agreement. END
---
Read Marlene's Story about her Lymphedema Sleeve
---
Marlene and her daughter Cecelia (lives with Marlene on the reservation) are at the tribal clinic. Marlene is getting a gentle massage to help drain the extra fluids trapped in her arm. Patty, the Nurse Practitioner (NP) at the clinic who has worked with a lot of breast cancer patients has asked Sharon (Marlene's daughter who is a nurse at the clinic) to meet with her briefly.
Sharon: Thank you for helping my mom and our family.
Patty: I'm glad to help. She is such an amazing woman.
Sharon (smiling): Yes, she is. Now, what is this I am supposed to do about an elastic sleeve for mom?
Patty: There are several organizations that made these sleeves for patients who have lymphedema. You are probably going to need to get two of them. That way, if one needs to be washed, she still has one she can wear.
Sharon: Does she have to wear it every single day? Nighttime too?
Patty: Probably not. But any time it is swollen, she needs to keep it on. She also needs to wear it even when it is not swollen, if she is going to be using her arm to lift or carry anything. Or, in her diabetes exercise class. Wearing the sleeve before using the arm in those types of activities helps reduce the likelihood of her having another episode. But she still has to be very careful. She cannot overdo activities. The sleeve helps but it does not protect against everything.
Sharon: How often is she likely to have this problem?
Patty: No one knows. Once it happens, it can keep happening for little or no reason that we know of. Or it may never happen again. The best way to handle lymphedema is to protect the arm as much as possible and try to prevent it from happening. But it can just happen for no reason at all. Maybe she sleeps on top of it without realizing it and awakens with a swollen arm. There is a lot to still learn about this disease.
Sharon: You call it a disease. Can it cause her serious illness? Does it cause death?
Patty: Almost never. Only in very severe cases. That is another reason why you need to help keep it from happening if possible or to manage it as soon as the symptoms begin. Come to the clinic any time you need help. Or you can call us from home. Does your mom's phone service include the clinic?
Sharon: Yes. The clinic is a local call so that is not a problem. Do we need to tell her cancer doctors about this?
Patty: Definitely. Tell the cancer nurses and any other providers you deal with from the Cancer Center too. That way they can avoid doing any procedures on that arm and accidentally setting off another episode.
Sharon: Thanks. This is all very helpful. I appreciate you making time in your schedule for all of us.
Patty: This problem was a higher priority than the other health problems of the patients waiting to see me this morning. You cannot wait too long to begin to manage the disease, okay?
Sharon: Yes, thank you again.
Patty: Wait, you're not done. I'm going to see my other patients, but I want you to go online and learn more about the different sleeves. Since your mom is 80, Medicare will pay for the sleeves.
Sharon: Ah, but my mom has never applied for Medicare.
Patty: What? Well, go to Martha Jane's office, you know, the social worker, and she will help you fill out the Medicare paperwork. In the meanwhile, when you find the sleeve that seems like it will work best for your mom, let me know and I will authorize it. After your Mom's Medicare comes through, I will give you the bill to submit to Medicare to pay for the sleeves. That way the clinic saves more of its funds for things not covered by Medicare or Medicaid.
Sharon: Thanks. What information do I need before I select the elastic sleeves?
Patty: Go into Peg's office where you mom is having her massage. With Peg's help, use a tape measurer to measure her upper arm on the swollen side and the arm that is not swollen. Peg will also help you measure the length of her arms, the width of her wrists and length of her arms. The websites will also give you the toll free numbers so that you can discuss the different types of sleeves with someone over the phone. Let them know the types of activities your mom still does (like gardening, gathering wood, preparing food for the ceremonies). This will help them work with you to select a sleeve that may be a better match for your mother. Also ask them about their return policy. This is in case the sleeve selected is too uncomfortable for her to wear for any length of time.
Sharon: Okay, I'll get started.
Patty: The list of lymphedema resources that provide sleeves are in my resources notebook (she pulls out the book and opens to the tab on lymphedema). Let Maggie Ann, the receptionist; know if you need any help using the computer. She is very skilled and helps me all the time.
Sharon: Thank you again.
Patty: Oh, one last comment. I know your mom has those lovely silver bracelets that she likes to wear at special events. From now on those have to be worn on her other wrist, okay?
Sharon: Yes, I noticed that item about jewelry and watches on the list you gave us. She never wears a watch, so at least that's not a problem (smiling).
Patty: Okay, again, you did very well getting her into the clinic right away. I'll see you later before your sister and mom leave the clinic. END
---
Read Marlene's Story Lymphedema Symptoms
---
Marlene and her daughter Cecelia (lives with Marlene on the reservation) are attending a Native wellness gathering at a hotel about 30 miles from the reservation. They are sitting on the bed in their hotel room.
Cecelia: Mom, what's the matter? You look like you don't feel too good.
Marlene: woo, daughter. You're right. I don't feel so good.
Cecelia: When did this happen? You were laughing and having fun downstairs. Wiggling your butt around with all of the other elders. You really looked like you were having a lot of fun.
Marlene (smiling): yeah, I was. That was fun to be together and laugh and be silly. But I think maybe one of those activities may have hurt me. I didn't notice anything at first. Just after we all sat down. I didn't want to walk out because Harold was speaking and I didn't want to be rude.
Cecelia: Okay, well, what are you feeling now?
Marlene (frowning): ah, I sort of have this hot feeling in my arm. And it hurts. I don't want to move it or it hurts even more.
Cecelia: Okay mom, may I look at your arm?
Marlene: Yes, but don't hurt me none, okay?
Cecelia: I will just look first and tell you if I'm going to try to touch it before I do. I don't want you to be hurting.
Marlene lifts poncho-shawl with her "good" arm to show the arm
Cecelia: Uhmmm, Momma, I think it is getting swollen. We'd better call Sharon (sister who is a nurse).
Marlene: Oh, I don't want to bother her. She's probably at work. Maybe I'll just lie down for a little bit and see if it goes away.
Cecelia: I think Sharon will be angry if we didn't call her. Please let me call her, okay Mom?
Marlene: Well, okay, but if she's busy, maybe she can call us back later.
Cecelia calls Sharon who is at home on her way to the clinic for work.
Sharon: I'm glad you let me know. I've been talking with the other nurses who work a lot with cancer patients and they've been helping me learn more about some problems mom may get. I think these symptoms are for a disease called, lymphedema. It is because she had to have so many lymph nodes removed when they took her breast.
Cecelia (covering the mouth piece of the phone so that her mother won't hear her): What do you mean a new disease?
Sharon: Well, it is something that can be controlled. It isn't going to make her die. But you need to get her some help right now. The sooner the symptoms are under control, the more likely she is to do well.
Cecelia: Okay, should we just go to the tribal clinic? We don't have to go all the way to the Cancer Center, do we? We're not that far from the tribal clinic. We're at the Microtel Hotel for the wellness gathering.
Sharon: I'll be at the clinic in about 20 minutes. Why don't you and mom come on in? I'll tell the receptionist that you're coming. I would like Patty, the Nurse Practitioner (NP) at the clinic to meet with all three of us. She knows a lot about cancer and this lymphedema.
Cecelia: Okay. Mom says she wants to lie down to see if the pain and swelling just go away.
Sharon: No. I want you to come in so that we all learn more about how to handle this. Does the hotel have a small, soft pillow?
Cecelia: Well, they're kind of large and foam. Why, what do I need the pillow for?
Sharon: When you get mom into the truck, I think we need her to keep her arm up a bit higher than her heart. Her arm needs to rest on something soft like a pillow. If you have her lap blanket with you, that may work as well as the foam pillow. Can you pile the blanket on top of the small ice chest so that when she rests her arm on it, her arm is a little higher than her heart?
Cecelia: Yeah, we can do that. She always has her lap blanket and you know I always have the ice chest in the truck.
Sharon: Good, so before you pile the blanket on top of the ice chest, give her a bottle of water to drink too, okay? She is going to need to drink water rather than her favorite soda, okay?
Cecelia: Okay, I'll get started now and we'll see you at the tribal clinic.
Sharon: Thanks for letting me know. I'll call Patty before I leave home so that she knows to expect us. END
---
Read Marlene's Story about Making a Will
---
Marlene is sitting outside in her favorite chair watching the sun rise. She has finished her morning prayers. Her daughter, Cecelia sits next to her. They are silent together for a long time.
Marlene: Daughter, I enjoy these mornings together with you. Seeing the sunrise. Knowing that the family are pretty much okay. I don't know how many more of these sunrises I will enjoy in this life.
Cecelia: Momma, I think you are going to see a lot more of these sunrises.
Marlene: Maybe. Maybe not. The Creator will let me know (smiles).
Cecelia: Momma, I don't know how to say this in a good way and I want to have you here with us for many more years. I also think that you should have a written will. This does not mean that I think you are going to die soon. I have also made out a will. I do not plan to die soon either.
Marlene: But daughter, those things are for white people. We don't need them here.
Cecelia: I didn't used to think so. But I do now. You remember my friend Lucy who died suddenly last year?
Marlene: Of course I do. She was a good mother to her children.
Cecelia: Well, her family are all fighting with one another. This has been going on since Lucy walked on. She would never have wanted to see her children act this way. It is so sad. They are acting mean to one another.
Marlene: What do you mean? Why would they act mean?
Cecelia: Well, Lucy never had a will written. She had told her children who she wanted to have her jewelry and her grandfather's pipe and her great-grandfather's shield. But nothing was in writing. Lucy just never thought her children would be greedy and mean. But oh, Momma, they have behaved very badly. Her son George stole the shield because he said it was worth a lot of money. He was going to sell it. Henry found out, went over and got George drunk, then stole the shield back. Henry gave it to his son to hide in the hills until George gets his mind back and quits thinking about money. But George didn't get his mind back. He filed a law suit. Against his family for the theft! Can you believe that?
Marlene: But why would he do that. This is his family? I don't understand. Is this because of the alcohol? We never should have let the reservation go "wet". Bad choice. Don't know what the tribal council was thinking of when they passed that. So where is the shield now?
Cecelia: No one knows. Henry's son has disappeared, but everyone knows that Henry knows where he is. But Henry told the son to keep hiding until George gets his mind back.
Marlene: Oh that is sad. Families should not act that way.
Cecelia: Yes, and Lucy never thought that they would. But that's not all. Theda took the pipe!
Marlene: Why would Theda take the pipe? She isn't even a man? What will she do with the pipe?
Cecelia: She just got mad at George and then she got mad at Henry and her nephew for hiding the shield.
Marlene: They are all acting crazy. Lucy was a wise, traditional woman. Why would her children behave so badly.
Cecelia: Well, that is what made me do my own will. I think you should do the same. Even Sancha has made out a will.
Marlene: Sancha? But she is a traditional woman? Why would she need a will?
Cecelia: Because her family from the city also fought about her mother's possessions after the mother walked on.
Marlene: Oh, I don't like to hear these stories.
Cecelia: I don't either. But this is why I think you should also do a will in writing. You can tell me what to write and I will write it and give it to Samuel, the tribal lawyer, so he can make it legal. He can read everything to you to make certain it is what you want done.
Marlene: But daughter, I am poor. I don't have anything.
Cecelia: Yes, Momma, you do. You own this house. You have the paintings and pottery from our ancestors. You have regalia. You have your beautiful beadwork.
Marlene: Oh, I can't think about this now. This is not right.
Cecelia: I know how hard it is. I had the same trouble. But I made myself do it. I asked Lisa to come over and take pictures of all of my things ... even my old Chevy truck. It still runs good. It felt very strange to do this, but I did. I labeled all of the photos of what it was and who it was to go to when I walk on. So many times I just wanted to say, "let my brothers and sisters decide". But I did not. I made certain everyone got something that I think they may like or think of me when they wear it or use it. But it was hard. It took me a long time to do this.
Marlene: When did you do this? I don't remember Lisa coming over to take pictures?
Cecelia: You were taking your afternoon nap. We did it over several days because I kept remembering other things that I needed to decide who they should go to.
Marlene: So you did this in secret? Without me knowing?
Cecelia: That is why I am telling you what I have done now. I did not mean for it to be secret or hidden. But I didn't want to talk with you about writing your own will. I needed to see how hard it would be for me first. Now I know. It was a hard thing to do. Now that I've done it, I am ready to talk with you about it.
Marlene: So talk.
Cecelia: Well, I kept changing my mind about who I wanted to have each thing. Like my concho belt. At first I thought you, but you have your own and rarely wear it any more.
Marlene: No, it is too heavy. So I only wear it for special ceremonies.
Cecelia: Yes. Then I thought Kathy. But Kathy's regalia has the beaded belt. Then I thought about Marylou, Paul's wife; that she may like it. But then I finally decided that Lisa should have it. I don't know why. I just finally decided that Lisa was best.
Marlene: So you gave some things to the wives? That is good. They've been good wives and mothers. But you don't have very much.
Cecelia: No, I don't have much; but I had more than I realized once I started to do this. Like I have the small earrings for a child that I've had since I was a child. Remember Auntie June gave them to me?
Marlene: Oh yes. I didn't know you still had them.
Cecelia: I didn't either. They were down in my old box with my books and things.
Marlene: Oh, this is interesting. What else did you find?
Cecelia: I have old photos of the family and our ancestors.
Cecelia: Well, when I did my will, you can say who is first, second, third and decide that type of stuff. So I said first they went to you. But if you passed on, then they should go to Stacy. If Stacy was no longer alive, then they would go to Paul.
Marlene: Why did you skip Sharon?
Cecelia: Because Sharon has copies of all of the same photos. We did that about ten years ago.
Marlene: Okay, that was good.
Cecelia: So, Momma, will you also do a written will?
Marlene: Why does it have to be written down? Why can't I just tell you who I want to receive things?
Cecelia: Because if it is not written down, it goes through the tribal courts, may even have to go through state courts and nothing oral is legal. It has to be in writing.
Marlene: Hummm. I would rather just tell you.
Cecelia: I know. But you can tell me and I will write it down. I'll read it back to you before I give it to Samuel.
Marlene: Harrumph. How much is this going to cost?
Cecelia: He charged me $100.
Marlene: Where did you get $100?
Cecelia: I sold two of my baskets.
Marlene: Where would I get $100?
Cecelia: We can decide which beadwork or baskets you and I have that we wouldn't mind selling. We can pay for it that way.
Marlene: Okay, let me thing about this for a while. Maybe I should just ask the children to come up and choose for themselves?
Cecelia: I don't think so. They may try to talk you out of doing a written will. Or, they may start fighting now. Or, just be too uncomfortable talking about your belongings while you are still alive.
Marlene: Yes, I think they would be uncomfortable. I would be uncomfortable too. I need to think about this some. END
---
Read Marlene's Story about Diabetes Dosage
---
The Family is at home talking to Marlene about her diabetes med dosages.
Family member: Hi, grandma. How are you doing today?
Marlene: I feel kinda tired. And I've had this headache for a couple days. It kind of comes and goes.
Family: It's probably me. I always did give you a headache! Do you think it's your chemo?
Marlene: No, it hasn't felt like this before.
Family: Have you been taking all your medicines?
Marlene: Just like the clinic doctor said.
Family: When did you last check your sugar?
Marlene: Oh, I kinda slacked off the past few days. Just haven't felt up to it. Mostly just resting. Haven't felt like eating much either. I think I've been losing some weight lately.
Family: Well, let's check it. Where's your little checker?
Marlene: It's over on the counter. Strips should be there, too.
(family member helps grandma check sugar)
Family: Grandma, it's 71. What is it usually?
Marlene: Oh, this time of day it would probably be 110 or 120. I don't think it's ever been that low.
Family: It's not supposed to be that low, is it? I think we need to get you to the clinic. We need some help. We need to get some food in you. Maybe the clinic doctor needs to change your diabetes medicine dose. Maybe you're getting too much right now and that's why your sugar is too low. You're not eatin' much. I think they told us this might happen and we need to watch for it. And if this is what's making you feel bad, we can make you feel better. Let's just get over there now. END